Company Registration in Zimbabwe
Register your company as a PBC for $70 or PLC for $300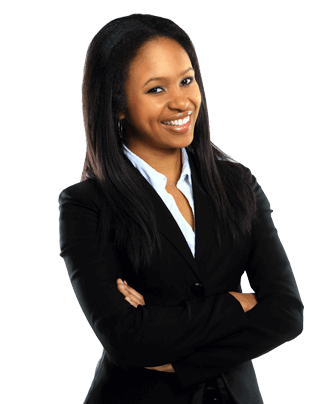 Register your business in Zimbabwe
Register your business in Zimbabwe as a PBC (Private Business Corporation) or PLC (Private Limited Company). We have helped many entrepreneurs to successfully register their companies in just 12 working days.
---
register yours in 2 simple steps
---
1. Begin Registration Process
2. Place Order & Make Payment
Is the PBC right for you?
For Small Businesses
A PBC is mainly meant for small to medium operations. It's an ideal way to start a business as you can always upgrade to a PLC without changing your name.
Registered under PBC Act
The PBC has been around since 1993. It is governed by the PBC Act, chapter 24.11. Both the PLC and PBC are registered by the same Registrar of Companies.
Offers limited liability
A PBC has limited liability and it can sue and be sued in its own name. If the business' assets are attached over debt this will not affect owners' personal assets.
Allows 1 - 20 Directors
A PBC has 1 up to 20 members or shareholders. These serve as the company's principal owners and directors. A sole trader can also register as a PBC.
Ready to register your company?
Begin the company registration process by providing your details and making your payment online.

Begin the registration process
Don't wait until its too late to register your business.
People lose important business opportunities daily simply because they are not registered. Most companies will not work with a business that is not registered. Imagine that you have pitched your product and the client is interested. You have invested a lot of time and resources to win this client and they are now ready to make an order. But before they do they need your company documents first. Sounds familiar? It is. Don't let that be you, register your company today!
The requirements for company registration as a PBC
The requirements for registering a business in Zimbabwe are as follows:
1 to 4 proposed names for your Private Business Corporation, these need to be submitted in order of priority. So you start with the name you want the most and then list the rest ending with the one you want the very least.
The core business that the operations of PBC will be focused on. These are called the main objects of the PBC.
The full names and ID numbers of between 1 to 20 members. These will serve as the shareholders and directors of the Private Business Corporation. This is equivalent to the CR14 on the Private Limited Company.
Each members interest or stake or share in the PBC. The total interest of all the members combined must be 100%.
Physical and postal address of the business. This is equivalent to the CR6 details on the Private Limited Company.
Each member of the PBC must sign the Incorporation Statement before the Registrar affixes his seal, stamp and signature.
A budget of $70 for the basic PBC registration up to $130 if you get optional member certificates, PBC by-laws and ZIMRA bank advice note.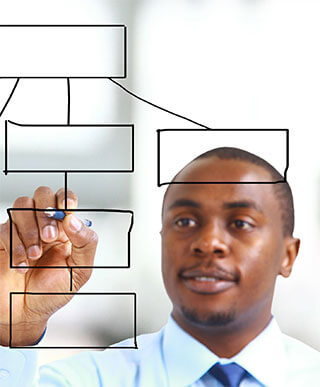 PBC Registration Procedure
The procedure for registering a company in Zimbabwe generally follows two steps:
Stage 1: Name search
A request is made to the Registrar of Companies office for a search to be made in the Register of Companies. The following is applicable at the name search stage:
The purpose of an application for reservation of name is to get the authority of the Registrar to use a particular name.
If the Registrar approves your application to reserve a name, he will reserve that name for you for a period of two months to enable you to register your PBC. He will not allow any other person to use that name during that period.
You are advised to give four names in your application so that if one name is not accepted, another one may be. You should list the names in order of preference.
The Registrar will not accept a name which is similar to that of another company or PBC, or is likely to mislead the public or is indecent.
The Registrar will give a written notice of whether any of your names were accepted or if they were rejected. This process takes 3 to 6 working days.
Stage 2: Registration of PBC and appointment of members.
After your name has been successfully reserved, the documentation for the registration of the PBC must be submitted to the Registrar of Companies. This process involves the appointment of members (shareholders/directors) of the PBC. Each member is assigned a percentage of ownership in the PBC. The total percentage for all members must add up to 100%.
The Registrar will then register the PBC and assign to it a registration number. The Registrar will put his seal, his stamp and his signature to the PBC Incorporation Statement to signify its authenticity. The PBC is also entered into the Company registry and becomes searchable in the Registrar's database. This process takes 3 to 6 working days.
About Private Business Corporations: Frequently Asked Questions
Definitions: What does PBC or PLC mean?
PBC stands for Private Business Corporation and PLC stands for Private Limited Company.
Should i register a PBC or a PLC?
A PBC (Private Business Corporation) is meant mainly for small to medium operations. It is good for those who don't want the high fees associated with registering and maintaining a PLC (PLCs pay annual returns and consultants usually charge $60/year). A PBC is also ideal if you have less than 20 shareholders or you want to be a sole trader.
How come i have never heard of the PBC?
The PBC has been around for quite a while. The PBC Act dates back to 1993. The reason why its not popular is because most consultants generally don't want to market it because it doesn't bring as much revenue as the PLC which costs $300 on average.
Why is the PBC cheaper to register?
The PBC is a lot cheaper to register as it is government's attempt to formalize the informal sector. It's also specifically designed for small to medium businesses hence the attempt to reduce the price to accommodate smaller businesses who cannot afford the higher costs of registering a PLC. Not only is a PBC cheaper to register, it's also cheaper and easier to maintain. It has no annual returns and laws that govern it are pretty straight-forward.
How many directors can a PBC have?
A PBC allows for between 1 to 20 directors. That means you can have a minimum of just 1 director and a maximum of 20 directors.
Can a sole trader register as a PBC?
Yes they can. A PBC allows for a minimum of 1 director/ member or shareholder. This means you can register a PBC and be the sole owner in it.
Where can i download the PBC Act?
Can a PBC register for tax and get a tax clearance certificate?
Yes it can! In fact, a PBC can do pretty much anything a PLC can do. A PBC can register for tax purposes with ZIMRA, apply for a tax clearance certificate and VAT registration (if your sales exceed $5,000/month or $60,000/year)
Can i open a bank account with a PBC?
Definitely! The PBC is as much a binding and legal document as the PLC. After all, it's called a Private Business CORPORATION. On top of that it's established by a national act of Parliament (i don't know of any wise bank that wants to fight against the government under which it operates). It's also important to note that both the PBC and the PLC are registered by the same government office (the Department of Companies & Intellectual Property).
What if i want to change my PBC to a PLC?
That is possible. In fact, you can convert a PBC to a PLC and a PLC to a PBC. You do so without the need to change your company name, except for the PBC or Pvt Ltd at the end.
Can a PBC apply for tenders?
Definitely. A PBC can do pretty much anything that a PLC can do.
Do i get CR6, CR14, Memorandum and Articles of Association?
No. In a PBC you get what is called a Certificate & Statement of Incorporation. This document contains the same details as are in the CR6 and CR14. CR6 specifies the address of the business and CR14 specifies who the directors of the company are. So whenever a bank, company or stakeholder requests for your CR6 or CR14, simply provide them with your Certificate & Statement of Incorporation. The memorandum and articles of association are for internal use and govern the relationship of  the shareholders in a company. The equivalent in a PBC is a document called 'a bylaw'. This is an optional document but you can have it drafted  for your PBC if you prefer.
I have another company i own, can it own shares in my PBC?
Unfortunately it cannot. Only individuals are allowed to be members or shareholders in a Private Business Corporation.
Sample PBC Incorporation Statement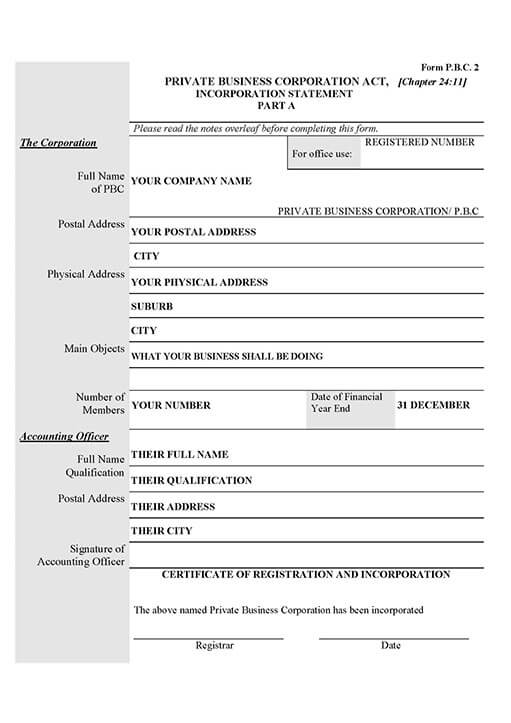 Ready to register your company?
Begin the company registration process by providing your details and making your payment online.

Begin the registration process
Angel & Walt
Suite 107, 1st Floor, Gelfand House.
Cnr 1st Street & Speke Ave.
Harare, Zimbabwe.
Tel: 04-251092, 04 2934120
Mobile: 0772 957786, 0732 957786